We are happy to announce our next Datathon which this time is all about fully connected travelling!
Transport service providers do not usually have aligned timetable platforms. Together with our Datathon partners: KLM, Schiphol, NS and Provincie Gelderland (initiator of the self-driving WEpod car) we are hoping to bring a change. By using data science models the goal is to provide the most time efficient itineraries for the traveller.
We challenge you, all data scientist out there, to develop the best model for a fully connected travelling solution by using all data made available by our Datathon partners.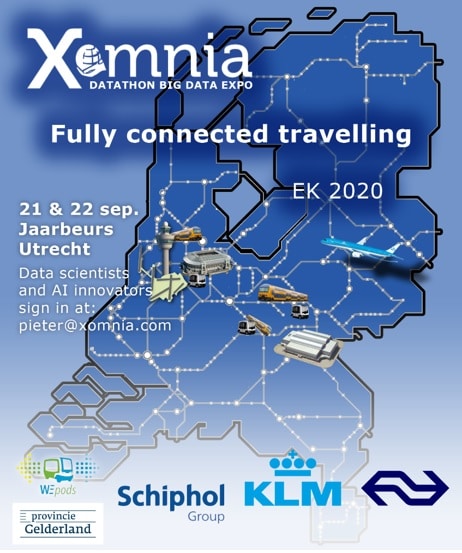 Datathon case: the UEFA European Championship  2020 Location: Big Data Expo (Jaarbeurs Utrecht) Date: 21 and 22 september 2016
It is the year 2020 and 13 different cities participate in hosting the European Championships. Dietrich, who lives in Munich, will fly with KLM to Amsterdam for the semi-final between the Netherlands and Germany in the Amsterdam ArenA. Meanwhile, Pedro from Barcelona will travel to the Gelredome in Arnhem for the semi-final between Spain and Italy.
Pedro and Dietrich only bought a ticket for the game. The fully connected traveling solution will provide them both their most efficient itinerary; a flight by KLM with connecting journey by train and WEpod to the stadium.
Take your chance this September to create this solution by developing models, decision trees, neural networks and evolutionary algorithms. Your developed solutions will be broadcasted live on big screens during the Datathon. A price will be announced for the winning team: the team that gets as closest to a zero minute aggregated waiting time.
Curious what a Xomnia Datathon feels like? Take a look at the aftermovie of Xomnia's Datathon on Sustainable Fishing.
About Xomnia
Xomnia is an artificial intelligence consultancy company based in Amsterdam, the Netherlands. We are experts in data science, data engineering and advanced business intelligence. Our services include: artificial intelligence consultancy & projects, academy training's and junior development program. We'd love to share our knowledge with you, please get in touch.