Xomnia, Ministry of Safety and Justice and the National Police are pleased to invite all the Dutch study associations Artificial Intelligence and the JADS for an exciting datathon: create your own safety monitor. They try to make the Netherlands safer by building a safety monitor while being a prisoner for 24 hours in p.i. Zeist.
What's in it for the study associations teams?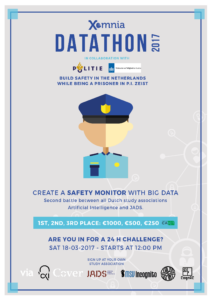 They develop an unbeatable résumé
They battle against other study associations and get to know them in a complete different way
They will meet the National Police and the Ministry of Security and Justice
They have to collaborate in a unique data-lab with some serious computing power. With the whole team they can work in the same data-lab environment. Teamwork makes the dreamwork.
The winning teams will pitch their ideas at the HQ of the Police
24 hours at a unique location. Not only Geert Wilders has lived there for his own safety, it is also known as the place where the Lockerbie bombing trial was held
A special thanks to Mijke van den Hurk and Guido Faassen . They created this awesome case and are working as a Xomnia junior at the police.
Want to know more about the datathon?
Like our Facebook page to stay up to date with the datathon. Would you like to have an impression of the first Datathon? Check out the aftermovie