Polaroid, the iconic international company specialized in instant films and cameras, collaborated with Xomnia to create a data platform to store all its data generated from different sources in a structured and accessible manner.
The collaboration provides Polaroid with the necessary tools to become more data driven and to centralize its data, which help in the company's efforts to provide reliable data to stakeholders across the board, and boost customer relationships.
Data Engineer Roelof Roessingh, Machine Learning Engineer Stanley van de Meent, Principal Data Architect Ozan Dogu Tuna, and Analytics Translator Jelle Stienen from Xomnia formed a team to help Polaroid plan and execute its data infrastructure.
"As a rapidly growing company, we had struggled with getting a grip on our scattered data. Xomnia's expertise and experience have been instrumental for us to move forward with a consolidated, well-structured data landscape. Throughout the project, the collaboration with the consultants has been excellent on the technical as well as the project-management and communication level." Andreas Hentschel, Head of IT at Polaroid
Challenge
Initially, Polaroid's data was living in independent silos, spanning, among others, Google Big Query, Shopify, Microsoft Dynamics and an abundance of Excel sheets. Since the data was neither connected nor uniformly structured, this made analyzing it, understanding different trends and relationships within it, and making reports out of it tedious, time-consuming, and prone to inaccuracies.
To tap into the knowledge and insights provided by its data, Polaroid sought Xomnia's expertise to create a data platform to connect its raw data coming from different sources.
Solution
The project was constructed in two phases: First designing a data platform tailored to Polaroid's needs, and then implementing what was designed. The final data model is enforced using Databricks and Spark.
In phase one, Xomnia's team, led by Data Architect Ozan Dogu Tuna, investigated various data architectures to identify the best fit for Polaroid's requirements. They found that Azure Synapse Analytics was the best option, since it integrates best with Polaroid's current way of working.
In phase two, our team started ingesting the raw data sources, focusing on data sources delivering the most immediate value. The data they ingested included data stored on-premise on Dynamics NAV, on Google Analytics (which was ingested using Supermetrics), and on Shopify (which was ingested using an API to request data).
Wholesale data came in the form of spreadsheets provided by wholesalers like Amazon and Walmart. To ingest it, Xomnia's Data Engineer Roelof Roessingh created a pipeline that enabled uploading all Excel files to a dedicated Sharepoint folder in a specified format, and uniformly ingesting the data into the platform based on a data schema.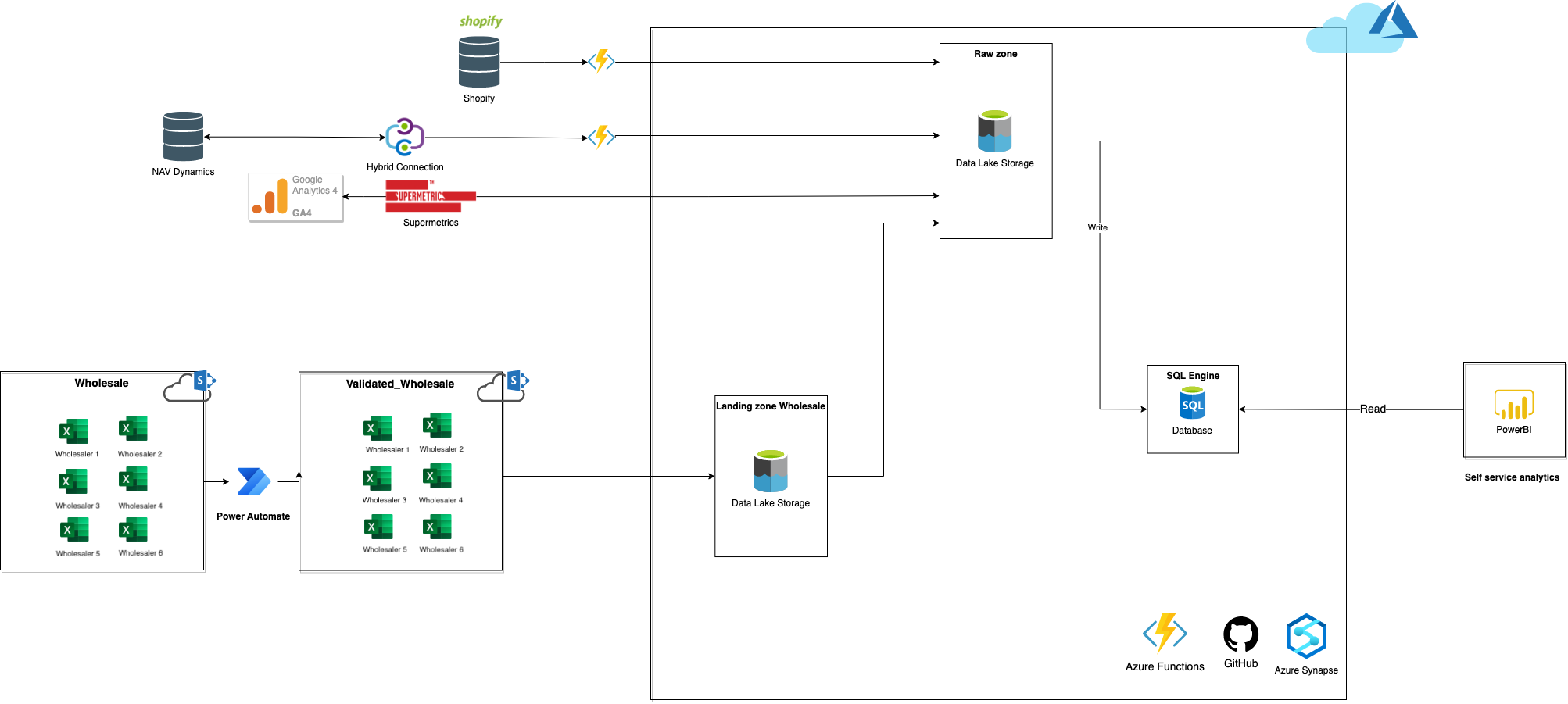 Interested in building or advancing your data infrastructure with Xomnia? Click here
Impact
Polaroid now has a central data platform that contains all the data pipelines, which will form the base on which it will complete its migration from working on-premise to working on the Azure cloud.  This will, in turn, enable Polaroid to work more seamlessly, efficiently, and accurately.
The data platform will give Polaroid a better grip on their data, helping them quickly spot relations and trends among variables, and saving them costs by automating laborious tasks like retrieving and cleaning data. For instance, the model will enable Polaroid to compare data from Google Analytics and Shopify to find relationships between user behavior on the website and purchasing patterns. This will enable Polaroid, for instance, to know which pages are more conducive to sales, or associate certain preferences with certain demographics and geographies.
For their customers, this translates into a more enjoyable experience and overall value, since insights provided through the integrated sales, production and behavioral data will allow Polaroid to better understand their customers and their needs.
Build your cloud platform or data infrastructure with Xomnia