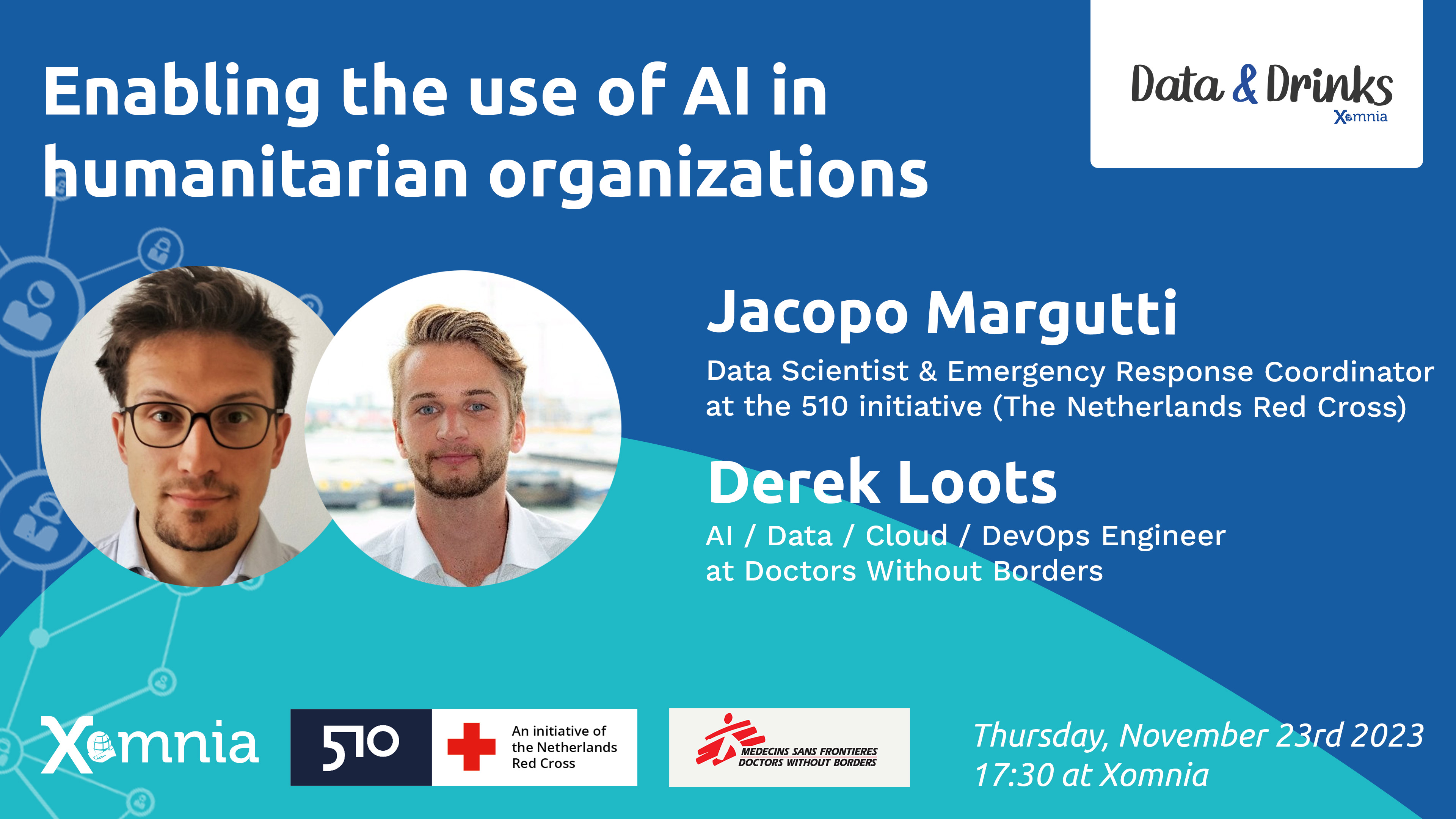 Details
The November edition of the Data & Drinks event is approaching fast, and it is going to be a very special one! Join us on November 23rd at 17:30 in Xomnia's HQ in Amsterdam for a night entirely dedicated to AI & data applications in the humanitarian sector. Our speakers are Jacopo Margutti, Data Scientist & Emergency Response Coordinator at the 510 initiative (The Netherlands Red Cross), and Derek Loots, AI / Data / Cloud / DevOps Engineer at Doctors Without Borders.
The event includes dinner, drinks and a lot of networking opportunities with data professionals from Amsterdam and beyond.
Summary of the talks:
Talk #1 by Jacopo Margutti: Digitalizing and automating humanitarian processes

Deploying pipelines and ML models in support of local responders to
humanitarian crises comes with a number of challenges: no pre-existing
digital infrastructure, ever-shifting priorities, limited resources, and
non-negotiable deadlines. This talk will present the approach followed
by 510, the data and digital initiative of the Netherlands Red Cross,
and dive into one workflow that they set up for classifying text
messages of Ukrainian refugees on social media, as well as the feedback
shared with the Red Cross, in order to improve humanitarian programs.
Talk #2 by Derek Loots: Enabling MSF to start using Artificial Intelligence safely and securely

Large language models have taken companies by storm. Controlling their
usage and potential negative effects is the focus of many companies
nowadays. This talk will present an approach that Doctors Without
Borders (MSF) Netherlands is using to leverage Azure OpenAI to build an
internal secure Chat-GPT. Through a community-based approach, MSF is
enabling departments to build reliable prompts in the best way, enabling
them to also scale through managed infrastructure.
About the speakers:
Jacopo Margutti is a data scientist at
510, the data and digital team of the Netherlands Red Cross. He is
responsible for developing and implementing AI / ML components in 510's
products and services. Having worked at 510 for more than 4 years, he
has been directly involved in several emergency responses and has been
deployed in some of them, most recently the Ukraine conflict. He
regularly gives trainings and lectures on AI, data analytics, and
information management in emergencies. He has a PhD in Physics, which he
obtained while working as a researcher for CERN's LHC, the largest
laboratory in the world.
Derek Loots has been building data and
analytics platforms over the past 5 years, building multiple data
analytics platforms in various industries, from real estate to passenger
transport. He currently focuses on advancing humanitarian efforts at
Doctors Without Borders by enabling many solutions offered on different
cloud platforms - a complex environment where security and data play a
vital role in providing humanitarian care.
Agenda:
17:30-18.30: Walk-ins & dinner

18.30-18.35: Introduction to Xomnia

18:35-19:05: Digitalize and automate humanitarian processes by Jacopo Margutti

19:05-19:15: Break

19.15-19.45: Enabling a humanitarian organization to start using Artificial Intelligence safely and securely by Derek Loots

19.45-20.30: Borrel