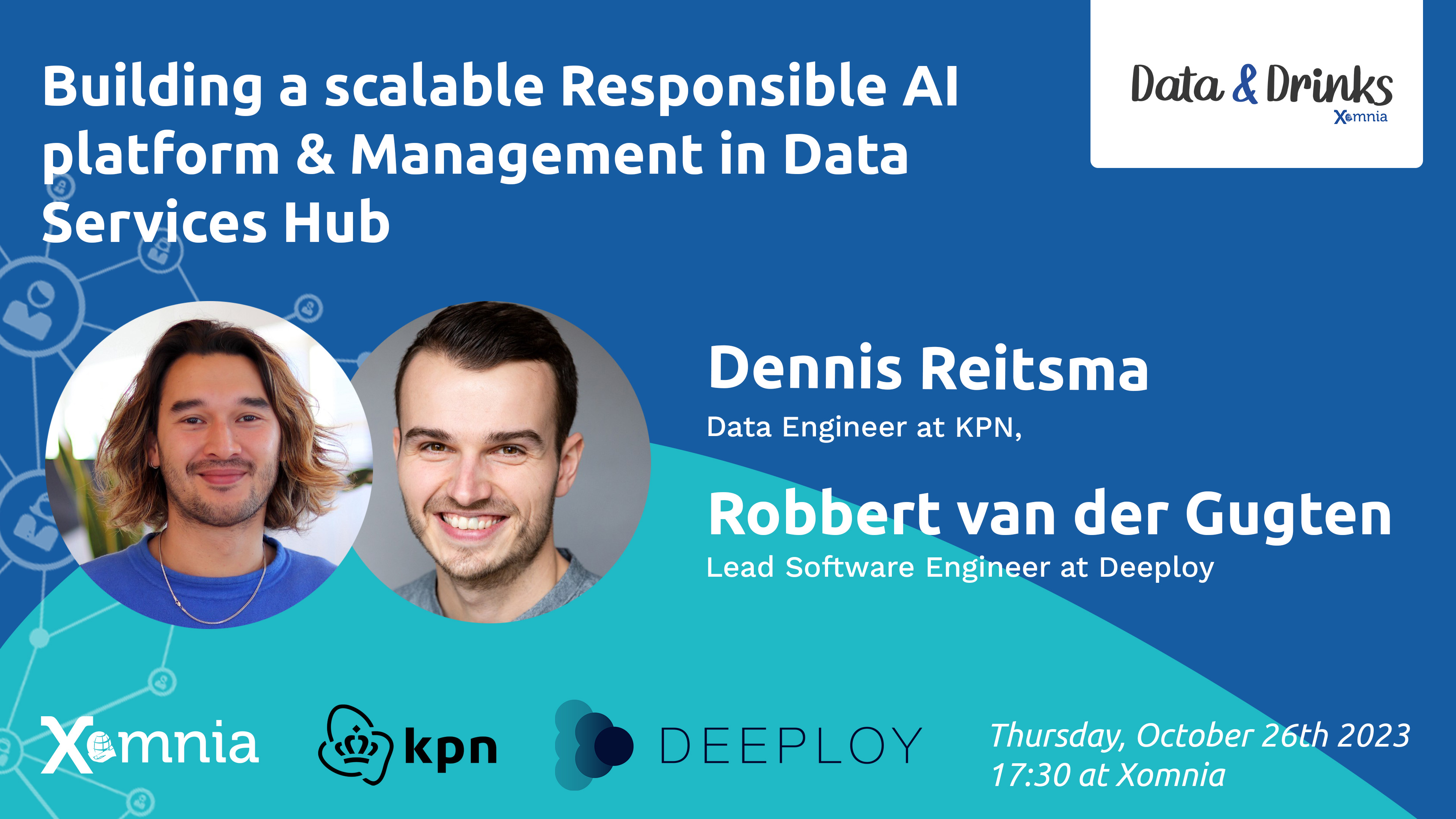 Details
Data & Drinks is back! Join us for an evening of valuable discussions, networking and drinks on October 26th at 17:30 in Xomnia's office in Amsterdam. Our guest presenters are Dennis Reitsma, Data Engineer at KPN, and Robbert van der Gugten, Lead Software Engineer at Deeploy.
The event includes dinner, drinks and a lot of networking opportunities with data professionals from Amsterdam and beyond.
Summary of the talks:
Talk #1 by Dennis Reitsma: Log File Management within Data Services Hub

Data Services Hub is a platform which facilitates real-time data
exchange securely from multiple data sources towards multiple
users/applications. The platform is known for its capabilities of being
event-driven, secure, scalable and with extremely low latency.
With Log File Management, we deliver usable logfiles to
create operational/business value. We have built three separate services
for this purpose:
Generic Log Parser (Kafka2Kafka),

Kafka Data Archiver (Kafka2ObjectStorage) and

Kafka Source Connector (anything (RestApi, ObjectStorage, GraphQL) to Kafka)
The GLP and KDA are written in Scala while the KSC is
written in Rust. Denis will dive deeper into one of these and the
architectural setup of these services within LFM.
Talk #2 by Robbert van der Gugten: The development and challenges of building a scalable Responsible AI platform

Artificial Intelligence is one of the biggest innovations of our time.
It changes the way we live, work, care, teach, and interact with each
other. While MLOps is a demanding endeavor, building MLOps as a service
for our community comes with even bigger challenges. Making it secure,
fast, and easy to use, are the hurdles we tackle every day.

Robbert will deliver an in-depth session on the challenges and perils of building a scalable platform.
About the speakers:
Dennis Reitsma is 29-year-old
Data/Software Engineer living in Amsterdam. He's been working with KPN
for 10 months, and prior to that worked as a Python Developer at NDW and
as a Data Analyst/Engineer/Scientist at De Bijenkorf (as a Nationaal
Dataportaal Wegverkeer). In his spare time, Denis likes making music,
playing in a postpunk band, skateboarding, and bouldering.
Robbert van der Gugten: As a former
data scientist, Robbert spent a lot of time bringing models to
production. While he enjoyed the engineering side of it, he knew that
there should be an easier way. This triggered him to specialize in MLOps
to bring all good software engineering practices into the realm of
machine learning. After working as a consultant for many big clients, he
longed for a more dynamic working environment, and found this at
Deeploy, where as lead software engineer he can use his data science and
engineering background knowledge to bring our responsible AI MLOps
platform to the next level.
Agenda:
17:30-18.30: Walk-ins & dinner

18.30-18.35: Introduction to Xomnia

18:35-19:05: Log File Management within Data Services Hub by Dennis Reitsma

19:05-19:15: Break

19.15-19.45: The development and challenges of building a scalable Responsible AI platform by Robbert van der Gugten

19.45-20.30: Borrel