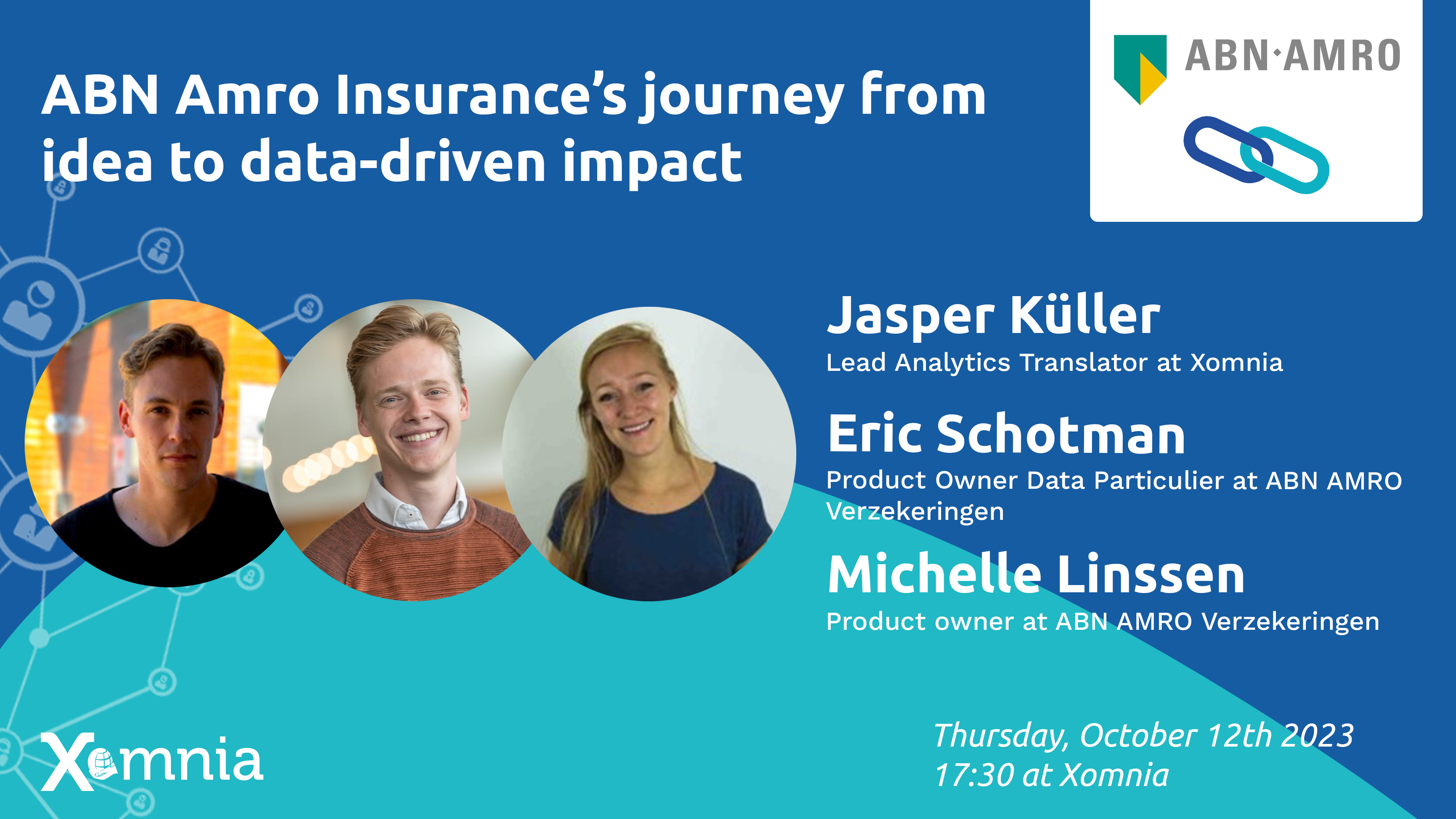 Unfortunately, this session was not recorded due to sensitive information
Wondering where to start with capitalizing on your organization's data, and how to turn it into value-generating impact? Then join the upcoming Xomnia Connects event on 12 October 2023 at 17:30 to get a deeper look at the journey of insurer ABN AMRO Verzekeringen towards a data-driven way of working. We will take you over the process, from setting strategies all the way to developing a data platform that generates commercial value from data.
Our speakers are Xomnia's Lead Analytics Translator Jasper Küller and Product Owners Eric Schotman & Michelle Linssen from ABN AMRO Verzekeringen. They will reflect on the concept of data strategy, and share insights on creating data capabilities (teams, infrastructure, governance, culture). They will also discuss the challenges and best practices for developing data-driven solutions, including defining top value-deriving use cases and building a data science platform from scratch using Azure ML.
Don't miss this opportunity to learn from experts and discover the benefits of a data-driven approach to business growth. You will learn about the pains and gains of this data driven journey, and the main lessons learnt. 
About our speakers: 
Jasper Kuller: Lead Analytics Translator at Xomnia. Likes to geek out on the business aspects of DS/AI challenges. Balances digital life with analog hobbies like motorcycles and martial arts.
Michelle Linssen: Michelle is the Product Owner Data Business at ABN AMRO Verzekeringen. She started as a Data Scientist at VGZ (including the innovation team) and has grown into the role of Product Owner to bridge the gap between IT/data and the business. In February, she made the switch to ABN AMRO Verzekeringen.
Eric Schotman: Eric is currently the Product Owner Data Particulier at ABN AMRO Verzekeringen. He has an MSc in Business Process Management IT & Data Science and is currently pursuing his Executive Master of Finance and Control. He has previously worked as the Business Manager to the CEO and as a second-line Risk Manager. He also published a paper on algorithmic decision-making and explainability within the insurance market.