We caught up with Rubik's cube extraordinaire Mats Valk for a look back at his competitive speedcubing in 2019. Mats has been jetting all around the globe this past year. He shares his highlights and lowlights, plus what we can expect to see from him in 2020.
Whaaa, what a summer! It all started off with a warm-up competition in Sydney the first weekend of July. Followed by the World Championships in Melbourne the weekend after. Then, we had the US championships in Baltimore the first weekend of August and the Dutch Championship in September. Overall decent results; obviously could've been better sometimes, but it also could've turned out way worse.
Warm-up in Sydney
The first competition was the Warm-Up Sydney 2019. This is a competition planned a week before the World Championship so people have a last practice opportunity. It turned out to be the fastest competition ever. Feliks Zemdegs and Max Park, the two fastest cubers in the world, showed a great performance with Feliks winning with a 6.15s average. Third place was obtained by Polish Tymon Kolasinski with a 6.47s average, just 0.01s seconds slower than my best average in competition ever. I started with 3 decent solves, but couldn't pull off another good one on any of the last 2 solves. I ended up in 7th place with a 7.26s average.
Worlds in Melbourne
More than 800 cubers gathered to battle for the most important title one can win in cubing- becoming the 2019 World champion. All cubers in the top 20 of the world rankings were present. I had prepared myself very well with many days of practice and competition simulation over the last months. Unfortunately, I got very sick the day before this the competition started which wasn't optimal. The first two rounds went all fine, nothing to worry about.
But then on Sunday the semi-finals happened. It was a given that a few cubers with chances of getting on the podium would miss out on the finals as there was only space for 16 finalists. I didn't perform as I normally would and almost everyone else did better than expected. I ended up missing the final of a competition for the first time in over 10 years. Real bummer, but I knew it was something that could happen and that I prepared myself in the best possible way.
The final was nerve-racking and ultimately won by German Philipp Weyer with a 6.74 seconds average. Sixth place was obtained by South-Korean Seung-Hyuk Nahm, only being 0.11s slower, showing how close everything was. I ended up in 9th place and the 4x4, 5x5 and 6x6 category. Nothing too spectacular and roughly as expected.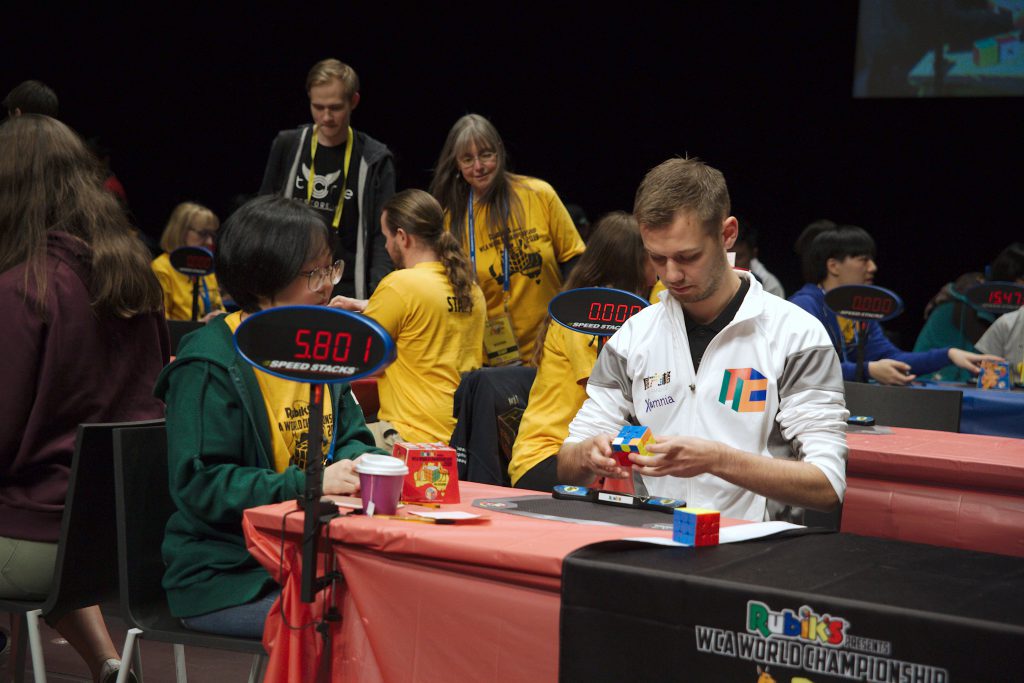 US Championships in Baltimore
Only three weeks after the world championships the second biggest tournament of the year happened. I had spent two weeks in a camper van travelling through New-Zealand in the meantime- definitely a recommendation! I made a rookie mistake by misjudging the time left before I had to go up for the semi-finals, resulting in me not being warmed-up. Wasn't the best performance again, but luckily enough I managed to get 16th place, only 0.01 before number 17. Therefore, just barely securing my spot in the finals.
When seeded last, you have to go up first. I got a 7.37 second average, nothing too crazy. After that I had a great time watching many other finalists not beating my time. Though, in the end, I got 4th place just 0.01 after number 3. Unfortunate, but still the best non-US citizen of the competition. I also ended up in 4th and 5th place in the 4x4 and respectively in the 5x5 category, where I hoped to sneak at least one podium finish.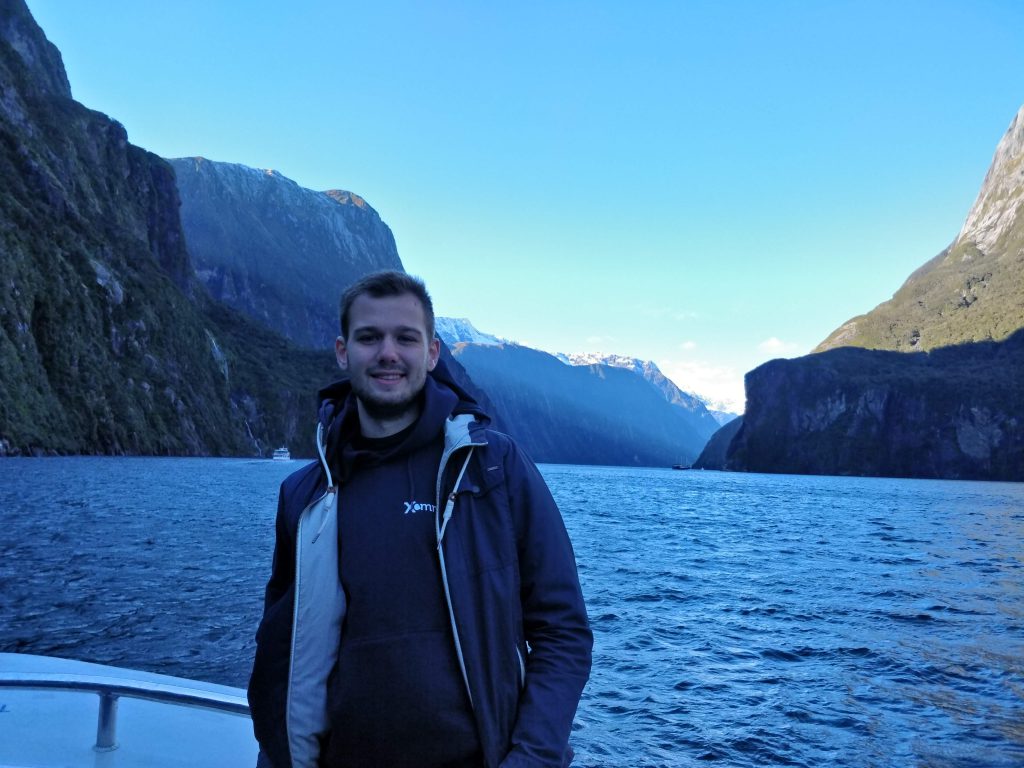 Dutch championship in Veenendaal
Last year I got beaten by Mika Smulders and came in 2nd place- which I had not expected at all. So, I was extremely motivated to win this year. I started off not too well in the finals, but ended with 2 very good solves securing the win with a 7.30 seconds average. A good friend of mine, Reinier Schippers, came in second with a 8.50 average, just beating Mika.
Overall, the absolute best performance I could've hoped for as I also managed to win the 3x3 one-handed, 4x4, 5x5, 6x6 and 7x7 events and was very happy to be able to call myself Dutch champion again for another year!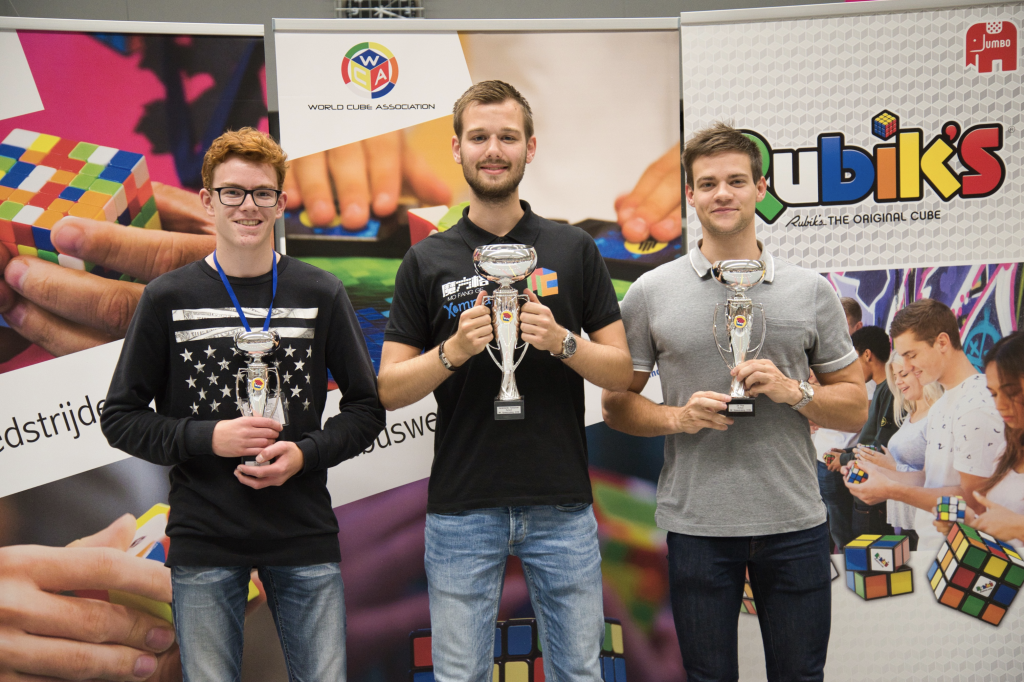 Where to next?
The what's called 'on-season' with bigger tournaments is over and it is 'off-season' again. Valuable time to practice new habits and experiment with new algorithms. A few more small competitions happened over the last months, including the Dutch open that I won with a very solid 6.49s average in the finals, my second best official average ever!  We got 10 more competitions planned for the upcoming 5 months, including one in Amsterdam on January 5th! If you are interested to come and watch, have a look at kubuswedstrijden.nl for all the information.
Furthermore, it was announced last month that the Netherlands will host the European championships 2020 in Almere next year, something I am very much looking forward to as it is going to be awesome!